LabelBot – Intelligent Electric Tamping System
When an opportunity for Nautilus Systems, Inc. came along to develop our next generation of print-apply systems, the LC100 Applicator Series, we wanted to take our technology to the next level in all possible ways.
Regarding the tamping system our primary goals were to build a groundbreaking device that is fast, versatile, and intelligent. We would implement a device that included self teach functions. We would minimize opportunities for confusion and improper setup. We would have a system that could provide a simple tamping operation like previous generation tamps but with options to provide significantly more sophisticated motions for approaching a target and performing placement operations. We would design a modular system with capacity to grow and enhance its features and functions.
Pneumatic tamping systems, though functional and useful in previous generations of equipment, include many weaknesses. They require clean, dry, compressed air which is inefficient and costly. They can be noisy. They are difficult to control in terms of motion profiles. When adjustability is included in them, the adjustments can be difficult and confusing.
Our previous electric tamping solutions, though functional and providing easier adjustment, were also limited by use of turnkey electric actuators that were designed as a 'one size fits all' solution. Our assessment determined that no turnkey electric actuators, even with modifications, could offer the features and functions to meet the objectives for our new tamping system.
After significant research and development we selected, engineered, implemented and integrated various components to develop a system that harnesses advances in all relevant technologies including processing power, sensor technology, communication networks, and programming techniques which will allow us to modularize and add as we move forward.
We are pleased to introduce our new intelligent electric tamping system, the LabelBot, for our LC100i Applicator products. This tamping system will change label placement as it has been known for decades.
The LabelBot Intelligent Electric Tamping System will be the best tamping ever used for automated label placement operations. Stay tuned for future developments and eventual implementation of this tamping unit to our PL Applicator products.
What Makes Nautilus Systems Special?
>Capture >Peel >Place – that's what makes us special.
>Capture >Peel >Place is a phrase we coined to describe our technology and methodology for adhesive component placement and to differentiate ourselves from 'old world' labeling systems. The pictures below show the > Capture >Peel >Place method in action. Note that the label or die-cut adhesive component is always controlled, either by being attached to the liner or by being captured by our vacuum chuck:
Now compare that to traditional labeling systems using the process we refer to as Flutter, Float, Levitate, and Hope. You will see that there is a vast difference between the two technologies. The traditional technology uses a combination of puffing air and vacuum to float/levitate the label from the liner to the vacuum head as the liner advances. It is a very uncontrolled process.
You don't need to be a scientist or engineer to understand > Capture >Peel >Place. Unlike traditional labeling systems our innovative design provides a system that can remove virtually any adhesive component from a roll and place it onto a substrate with extreme reliability and high precision. > Capture >Peel >Place allows us to >Capture the adhesive component while it is still attached to the liner (roll), >Peel the liner away from the adhesive side of the component, and >Place the component onto the desired target. This method maintains control of the component at all times. Components can include all types of roll-fed die-cut materials including labels, insulating tapes and films, conductive tapes and foils, gasket materials, medical materials, hang tabs, multi-layer materials, and more. Likewise, our systems are not affected by the shape of the material. We can > Capture >Peel >Place components that are rectangular, round, frame-shaped, odd-shaped, and even capture multiple detached arrays of components simultaneously. Any material and any shape of component can be automatically applied with this technology. That's why we've become a standard solution for industries as diverse as Packaging, Automotive, Medical Device, Energy, Semiconductor, Mobile Device, Electronics, Consumer Goods, and more.
NSXR-G1 Controller Package
The NSXR-G1 Controller package features state of the art processors, electronics, and communication protocols and enhanced firmware. This engineered combination of improved hardware and firmware provides several substantial benefits. One benefit that will be noticeable to our customers is that each PL Series Applicator operates at faster speeds in all modes of operation than was previously possible. Another substantial and obvious benefit is the small size of the NSXR-G1 Controller.
Our previous generation of controller, the NSC2X Controller, was packaged in a separate enclosure that was connected to the PL Series Applicator via several cables. Due to selection and configuration of state of the art components this new package will be attached directly to the PL Series Applicator adding only approximately 12mm to the overall thickness of each PL Series Applicator. The external controls enclosure has been eliminated. No longer is there a requirement to mount another enclosure or route the cables from the enclosure to the Applicator. The only cables remaining now are the Configured I/O cable, for connection to your PLC or other external controls system, and the power cable. Regarding the power, the system is now supplied with an enclosed power supply, similar to what is used with a laptop computer. Simply plug in the power supply to an appropriate AC outlet, connect compressed air if required, and the system is ready to run.
Finally, the NSXR-G1 has also been put through significant testing per CE EMC requirements. It has been proven to provide robust operation when unexpected events such as ESD occur in the production environment. Nautilus Systems is proud of this advance in technology and looks forward to continually providing our customers with the best technology available for adhesive component placement.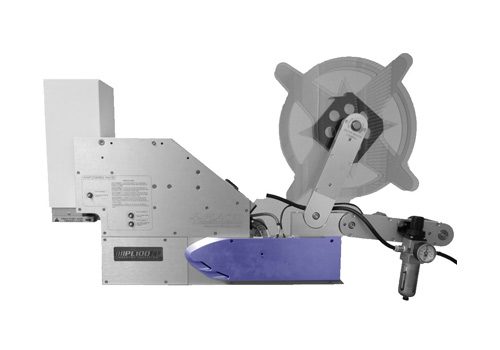 PL100i/PL165i versus PL100r/PL165r
The subscript 'i' or 'r' is used to distinguish a PL model as to its intended purpose. All 'i' series systems include a tamp module to which a vacuum chuck is affixed for removal of the adhesive components from the roll. In other applications our 'r' series systems (robot mode) are used to 'feed and peel' the components on demand from external systems such as a robot provided by a customer or 3rd party integrator. Typical application scenarios included the following:
i Series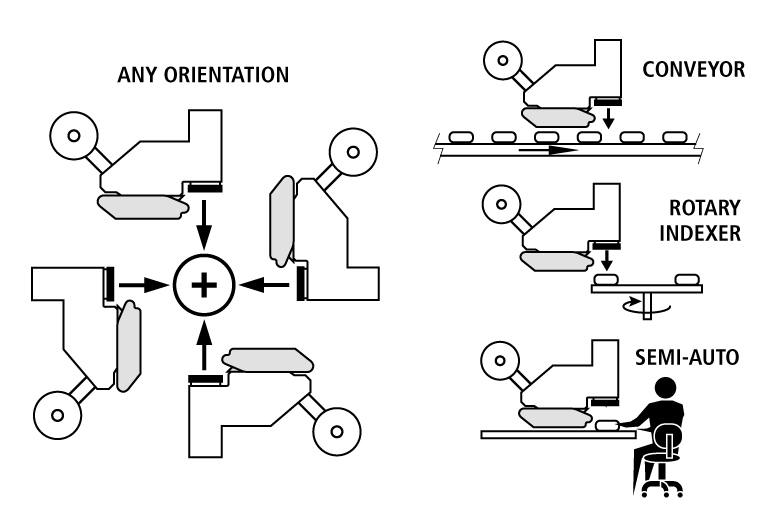 r Series