NSI is pleased to introduce our next generation of print and apply applicator systems, the LC100 series.
'LC' denotes 'Label Composer' as the user can design their label content with virtually any text, barcode, or image that can be printed using thermal transfer printing technology. '100' denotes that this series is designed for labels up to 100 x 100mm in size.
We are proud to be releasing the LC100i 'print and apply' Applicator series for the first time at Pack Expo 2018 from October 14 – 17, 2018 in Booth W-871 in the West Hall Pharma Pavilion at McCormick Place Convention Center in Chicago, IL. The LC100i, our next-gen print and apply system, is an advanced system that provides 'on demand' printing from a 600 dpi thermal transfer printer and our newest innovation, the LabelBot tamp. The LabelBot is an Intelligent Electric Tamping System. For simple setup and operation it can be used in a mode that simulates a pneumatic actuator but it can also be programmed to offer performance like that of a robot in terms of accel/decel profiles, placement force monitoring, and collision detection along with the ability to self-teach.
In addition to the LC100i Applicator we are also releasing the LC100r robot mode feeder 'print and peel' system. This system is configured so that the user can integrate it with their own robotics or pick and place system.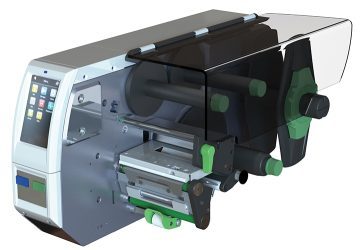 Soon to be released is the LC100RT90 Applicator. This unit incorporates an electric tamp that provides a 90-degree rotation after the label is peeled, but before it is applied to a target. This system is specifically configured for applications that require this type of tamping motion.
In addition to these three standard applicator configurations of our LC100 platform we have also planned new modules for the LC100i that will allow it to provide new functions including a 'print-inspect-apply' function in which a vision system or other reader can be integrated so that a printed label can be inspected immediately after printing but before application to a target.  This innovation will ensure that a bad label is never applied to a product and includes options for automatically disposing of rejected labels.  This is the first packaged system on the market that allows a user to inspect a printed Label before they apply it to a target.
Nautilus Systems, Inc. (NSI) is a leader in automated systems for labeling, print and apply labeling, and precision placement of die-cut adhesive components such as films, foils, gaskets, adhesives, two-sided adhesives, and other roll fed components that are die-cut or laser cut.
NSI has systems installed in more than 25 countries worldwide and throughout the USA meeting the demanding requirements of manufacturers, contract assemblers, and automation providers in healthcare, medical device, packaging, electronics assembly, consumer goods, automotive, aerospace, and virtually any other industry.
All NSI Applicators include our patented 'Capture-Peel-Place' technology. This technology includes a retracting peel system which allows us to locate the component in the web feed axis while it is still attached to the web (liner), capture the component using vacuum while it is still attached to the web, peel the component from the web, and place the component onto the target with high accuracy and repeatability. The Capture-Peel-Place system can be used with virtually any component geometry including the ability to place multiple components in one application.